COOLSTAR

OFFICIAL WEBSITE
COOLSTAR is a band that combines world class musicians with dozens of hit records behind them – and some of the best British newcomers. It's a powerful combination!
The band is flexible, the songs cross musical genres, and production techniques are unformatted – giving them the freedom to go where the next song flows! Biography.
NEW RELEASE 4th SEPTEMBER 2020
I Keep WALKIN'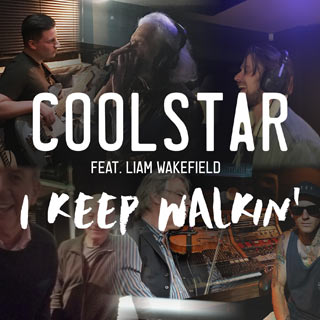 Listen now: I Keep Walkin' by Coolstar (2020) HERE
PREVIOUS RELEASE
HOMELAND
Homeland is a song for the millions of people who are missing their homes and families — whatever the reason — political, circumstantial or chosen. Homeland by Coolstar celebrates the warmth, power and love that is ... home.
Recorded by Coolstar at Quay West Studios in Gosport, Hampshire. Vocals by Alan Finlan and Erin Newman, Guitars – Nick Bowen, Drums – Daryll Nash and Keyboards – Gethyn Jones.
Publishing queries via Gethyn Jones or Sentric Music.
Available for download and streaming at the usual places: Amazon, itunes, CD Baby, Spotify etc.